Now's the time for all things pumpkin to make its way into my kitchen. Everything from pumpkin coffee, bread, muffins, pies, spices, soup, ice cream, and of course beer….you name it and I'm a sucker for it. Over the next few weeks I'm going to share some pumpkin recipes that are fantastic for this time of year, starting this week with two pasta dishes!
One of the most popular dishes that you'll often find in restaurants this time of year is pumpkin ravioli. If you have a pasta machine at home, ravioli is fairly easy to make (see instructions below). Last week I decided to make pumpkin ravioli with a pumpkin cream sauce. I researched and made a really good ravioli filling, and then put together a delicious pumpkin cream sauce that was just what I had in mind.
Everything was cooked and ready to go, which led to my sad discovery….yes, Virginia, there is such a thing as too much pumpkin. It wasn't that the pumpkin taste was too overwhelming. The problem was that I couldn't tell where the sauce ended and the ravioli began! Your pasta and sauce should compliment each other, while at the same time allowing each one's character to shine through just enough to appreciate them on their own. Unfortunately, while both the ravioli and sauce tasted fantastic on their own, their tastes were too similar and it was too much of a battle for center stage when served together.
The good news is that there is also such a thing as happy mistakes, and this could very well be my happiest. The pumpkin cream sauce was absolutely delicious, and while it may have been too much for the ravioli, it works beautifully served over penne! If you are looking for a good pumpkin pasta dish, my first recommendation is the penne with pumpkin cream sauce. The ingredients are simple, and there's not much time or effort needed to prepare this meal. If you do have more time on your hands and are in the mood to roll and stuff your own ravioli, then you can't go wrong with the pumpkin ravioli. I suggest serving it with Mario Batalli's Brown Butter and Sage Sauce.
So there you have it, folks….two delicious pumpkin pasta recipes. Next week, I'll be sharing a classic pumpkin treat, Coffee Can Pumpkin Bread! You can also check out my Pumpkin Amaretto Risotto recipe that I posted last year, and is now part of our annual pumpkin rotation.
PENNE WITH PUMPKIN CREAM SAUCE
2 tbsp butter
2-3 tspn flour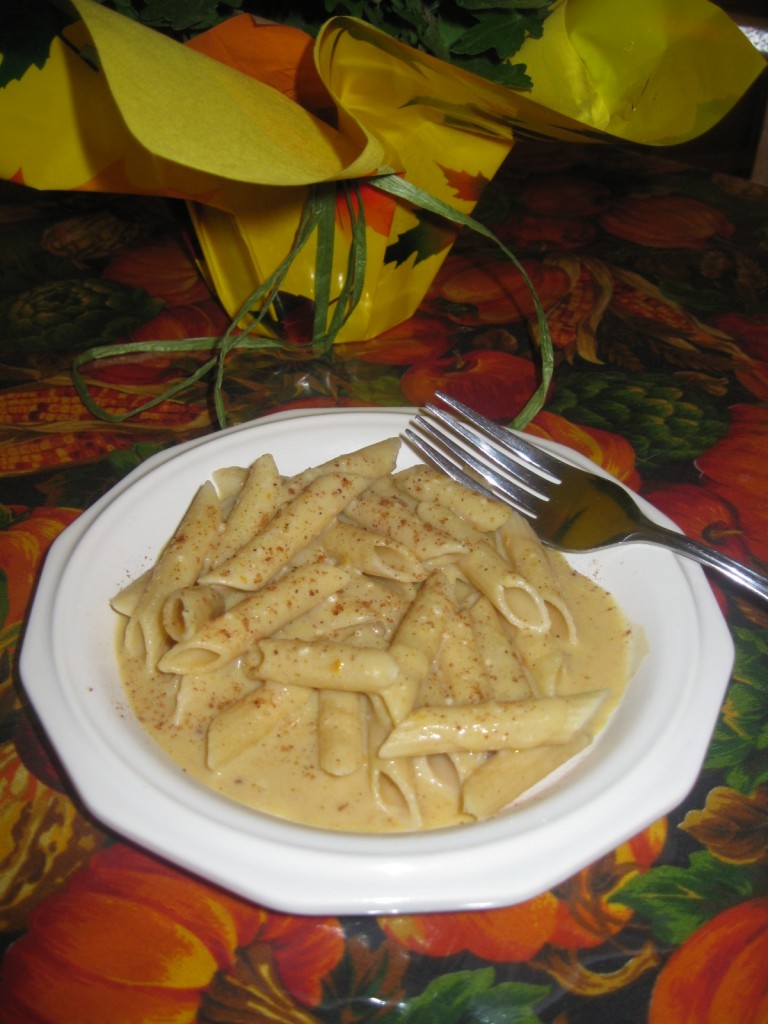 1/4 tspn cinnamon
dash of nutmeg
1/4 tspn salt
*3/4 cup milk
1/4 cup pumpkin puree
1 tblspn parmesan cheese
*Note – this recipe calls for milk. No whipping cream necessary. I actually had good results with vanilla soy too!
Melt butter in a small saucepan over medium heat. Add 2 tsp flour to melted butter and stir to make a liquidy roux. Stir in cinnamon, nutmeg, and salt. Cook for 30-60 seconds.
Turn heat to low and whisk in milk, whisking until there are no lumps. Stir in pumpkin puree and parmesan cheese until well-incorporated. Cook on low stirring frequently for 5-8 minutes or until thickened to desired consistency. Yo can add the additional tspn of flour to thicken up if needed. Be sure to whisk in until all lumps are gone.
Drizzle over 1/2 lb cooked penne, making sure not to oversaturate the pasta with the sauce. Top with a sprinkle of nutmeg.
PUMPKIN RAVIOLI
Filling
1 cup pumpkin puree
1 tsp cinnamon
1/2 tsp nutmeg
1/8 tsp ground ginger
Pinch of sea salt
1/4 cup ricotta cheese
Basic pasta dough recipe
(click here for recipe)
Prepare and roll out pasta dough according to directions in above link. After rolling out pasta dough, combine and mix all filling ingredients in a bowl.
When pasta is rolled out, place one sheet of dough on piece of wax paper.
Mark the dough where you will be making the ravioli cuts. Place 1 tablespoon of filling in the center of each expected cut. Place a second sheet of dough on top (you may need to lightly brush the second sheet with an egg wash if the dough has dried out to help the sheets stick together). Press out the ravioli with a ravioli cutter. Continue to do this until all sheets are used. Dust the prepared ravioli with flour to avoid sticking. Bring a large pot of salted water to a boil. Gently add the ravioli to the water and cook 4-5 minutes.
Serve with Mario Batalli's Brown Butter and Sage Sauce.
Please visit my website, www.domskitchen.com for more recipes!